By Calvin |
15
April 2021 |
0
Comments
Do you need a dive watch?
Guide to choosing your first automatic dive watch
Dive watches, along with aviation watches and field watches, are the three most popular types of men's sports watches. Dive watches emerged in the 1920s as "water resistant watches". They were able to prevent water from entering and damaging the sophisticated internal structure of watches. Later, these "water resistant watches" were further developed into watches that are extremely durable and able to withstand high water pressure. The first diver watch was thus born. As its name suggests, a good diver relies on accurate timekeeping when going on an expedition hundreds of feet underwater with only a finite supply of oxygen. That is why divers always demand high-quality timepieces. Today, dive watches are also favoured by non-divers because of their tasteful aesthetics, superior durability, and utilitarian value.
What makes a good dive watch?

There are many factors to take into account when purchasing a dive watch. The most important thing to consider is that it must possess superior water resistance such that can withstand water pressure of at least 100 meters/300 feet/10ATM. Being able to survive 200 meters underwater is common ground. The case and band material should be resistant to corrosion. Materials often used include stainless steel, titanium, silicone, or rubber. The type of material is often chosen based on personal preferences. These bands are generally longer than that normal watches as well to accommodate bulky dive equipment. The watch crystal, which is the transparent cover that protects the watch face, is often made of hardened mineral glass. Some may be manufactured with sapphire. Although sapphire scratches less easily, hardened mineral glass is more resistant to breakage. A solid dive watch will last for decades if you maintain it properly.

A unique characteristic of a dive watch is its unidirectional bezel. It always rotates counter-clockwise, enabling the diver to set the index to the minute hand at the beginning of the dive so that he can track how long he has been underwater. Even if the bezel is accidentally rotated in the wrong direction, the dive watch will indicate a longer dive time rather than a shorter dive time. By erring on the side of caution, the diver will not exceed his available oxygen supply before it runs out, thereby minimizing the risk of drowning. Most dive watches have illuminated indices too. The hour and minute markings on the watch face are easy to read and light up in a dark environment. This helps make time-telling more convenient and accurate.

A good dive watch should also be an automatic watch. Unlike a battery-operated watch, an automatic watch is not powered by electricity. It uses either a rotor or metal weight to power up the timepiece. The rotor is designed to move freely such that it spins with every motion, so you do not need to manually wind it. In other words, as you move your wrist, the rotor spins, and thus the hands on the watch move. Since this type of watch winds automatically and does not need batteries, it is especially suitable for operating underwater. This is because batteries may rust and corrode when they come into contact with water, which can lead to malfunctioning of the watch. Losing track of time during an expedition may result in dire consequences and even death for the diver.
You may have heard about an additional feature called a helium valve. It is generally useful for divers who do very deep saturation diving in underwater habitats containing helium. As helium molecules are very small, they can enter the watch case. When the diver returns to the surface, the space between helium molecules expands as water pressure drops; this process can severely damage the watch. This is normally not an issue for recreational divers because it is rare for most people to spend a lot of time in deep-water habitats.

Price is always something to think about too. The best automatic dive watch depends on the person – it is a balance between the functions you are looking for and your overall budget. Generally, automatic dive watches range from $200 to over $7000. There are many economical options as well as high-end options, so you have lots of watches to look into before making your final decision.

What are some popular automatic dive watches?
Here are some examples of popular automatic dive watches currently on the market.

Seiko Prospex SBDB018
Cost: High
Summary: Seiko is probably one of the first brand names that people think of when they talk about dive watches. Their first ing dive watch was made in 1968, and since then they have established a strong presence in the industry. The attention to detail and breathtaking design is what keeps drawing people in. It has a water resistance of 200 meters and 8L55 automatic movement. Both features combined ensure accuracy and durability.
Seiko SXX013 (Women's dive watch)
Cost: Budget
Summary: Designed for women, this version of Seiko's dive watch is a smaller alternative for the famous SKX007 model. It measures 37mm in diameter with a 20mm band width to accommodate female divers with smaller wrists. The watch incorporates a unidirectional rotating bezel, self-winding automatic movement, and 200 meters of water resistance. In addition, the high-quality stainless-steel case and Hardlex crystal strengthen its durability. This watch has all you can ask for at a relatively low price.
Rolex Submariner
Cost: Very high
Summary: This is without a doubt the most influential dive watch of all time. Nearly every other dive watch has been inspired by the original Submariner's design. It has a relatively small diameter of 40mm and a bezel made of ceramic. It can function 300 meters underwater. Designed to be worn during diving and everyday life, the watch has plenty of additional features including stop-seconds for precise time-telling, Cyclops lens for magnifying date settings, and Rolex Glidelock Extension system for comfortable wrist fitting. With how prestigious the watch is, you will soon be getting used to being asked "Is it a real Rolex?".
Deep Blue Nato Diver
Cost: Budget
Summary: Classical design combined with an easy-to-read bezel is what many consumers are looking for in a dive watch. This watch has a NATO strap instead of a stainless-steel strap, making it weigh less than a conventional dive watch despite its 44mm diameter and stainless-steel case. It is functional 300 meters underwater and has a helium escape valve to prevent damage during diving.
Tissot Seastar 1000 Powermatic
Cost: Budget
Summary: This watch has all the standard functions of an automatic dive watch at a reasonable price. Its sleek design is a bonus and can be used to dive up to 300 meters. The watch has three sub-dials as well as a date window. Its unidirectional ceramic bezel is light and corrosion resistant. The straps and casting are made of stainless steel and it is up to 43mm wide in diameter, so the watch may feel heavy for some users.
Davosa Ternos Professional Dive watch
Cost: Medium-priced
Summary: A 42mm display, 500-meter water resistant with top-class automatic Swiss movement and backed up by a 2-year guarantee warranty is all you can ask for at this price. The sapphire watch crystal upgrades the watch with a luxurious feel. An automatic helium escape valve is a bonus for hard-core divers. Overall, this watch combines practicality and style, making it a great investment for first-time buyers.
Oris ProDiver Pointer Moon
Cost: Medium-priced
Summary: Robust and rugged, Oris ProDiver meets all the criteria when it comes to high functionality: 1000-meter water-resistance, a Swiss automatic movement, a date display, and luminescent hands and makers. Its titanium case and strap are light and durable, allowing the watch to sit comfortably on your wrist regardless of its large 49mm diameter. This is all backed up with a 2-year warranty by the manufacturer.

Delma Blue Shark III Automatic Dive Watch
Cost: High
Summary: The aesthetics of this watch is what catches the eye first. Its unidirectional bezel displays a bright colour scheme of orange, blue, and black, making the watch easy on the eye and clear to read. It is 47mm in diameter so that it fits nicely on the wrist for most people. The strap and case are made up of stainless steel and rubber, and an additional strap is included with tools for changing straps. The most impressive feature, however, is its upgraded water-resistance up to 4000 meters. This is uncommon even in the world of dive watches.

Aquatico Dolphin
Cost: only $299 USD (original)
Aquatico is a young and vibrant watch brand founded in Hong Kong in 2016. As its name suggests, the owner Calvin was inspired by a scenic beach resort in the Philippines, and thus Aquatico was "born from the ocean". All Aqautico watches are built for deep dive. Their watches are best known for reliability, precision, and timeless style. Each watch is designed to function for decades and withstand the most demanding real-world conditions. The brand aims to bring luxurious automatic watches to customers at a fraction of the market price. Maintaining low prices does not imply comprised quality. Aquatico is able to sell at low prices because they sell directly to consumers; this means consumers will not pay any insurance premiums or external fees through an intermediary. Their automatic dive watch, Aquatico Dolphin, is an embodiment of the brand's vision.

The Aquatico Dolphin automatic dive watch is suited as a diving utility as well as a fashion piece. It oozes with style and ticks all the boxes when it comes to functionality. Let us go into detail about what this watch has to offer.

When meeting the eye, the watch's will leave you in awe. Mermaid and dolphin engravings add style points. The high-quality sapphire crystal and polished stainless steel shine materials shine through with quality. It comes in six unique colours: bright yellow, orange, black, blue, bright blue, and white. Being able to choose and wear your favourite colour is always a big plus.
The watch ticks all the boxes when it comes to functionality. Aquatico's unparalleled skill in engineering makes sure that the watch incorporates all the functions you are looking for at an unexpectedly low price. This dive watch has Japan-made Seiko NH35 automatic movement and can be worn 300 meters underwater. Its bezel, dial, and handset use Superluminova BGW9 as luminescent pigments for time-telling under low light conditions. The date window and crown are both located at the 3 o'clock mark. The watch crystal is made of high-quality sapphire that is resistant to scratches. The stainless-steel bracelet, buckle, and case makes the watch very durable and resistant to breakage. The 120 click bezel "stops" at every half minute instead of every minute; this is superior to 60 click bezels in smoothness, quality, precision, and feel.

Aquatico Dolphin measures 39mm in diameter, 46mm from lug to lug, and 12mm in height. Even though it is built with stainless steel material, the watch only weighs 130 grams. It provides a comfortable fit around the wrist and does not look too bulky or clash with formal wear.

If this is your first dive watch, look nowhere else. It is nearly impossible to ask for appealing style and a range of premium features within one watch model at merely $299 – that is how revolutionary the price is. On top of that, if you sign up on the Aquatico website, you will receive a 10% discount as a new user. In other words, you can purchase your dream watch below $270. Now that is definitely a bargain!
In addition to stunning products, Aquatico offers one of the best hassle-free online shopping experiences out there. There is no need to worry about hefty shipping fees or wasting money on a watch you do not like because all their watches come with free worldwide shipping, free return services within 30 days, and a 12-month warranty. You can also choose to request an exchange of product instead of a refund if you change your mind. Payment options are through Paypal, credit card, or debit card. The process is 100% safe and secure.

Feel free to check out Aquatico Dolphin automatic dive watches here:

Aquatico Dolphin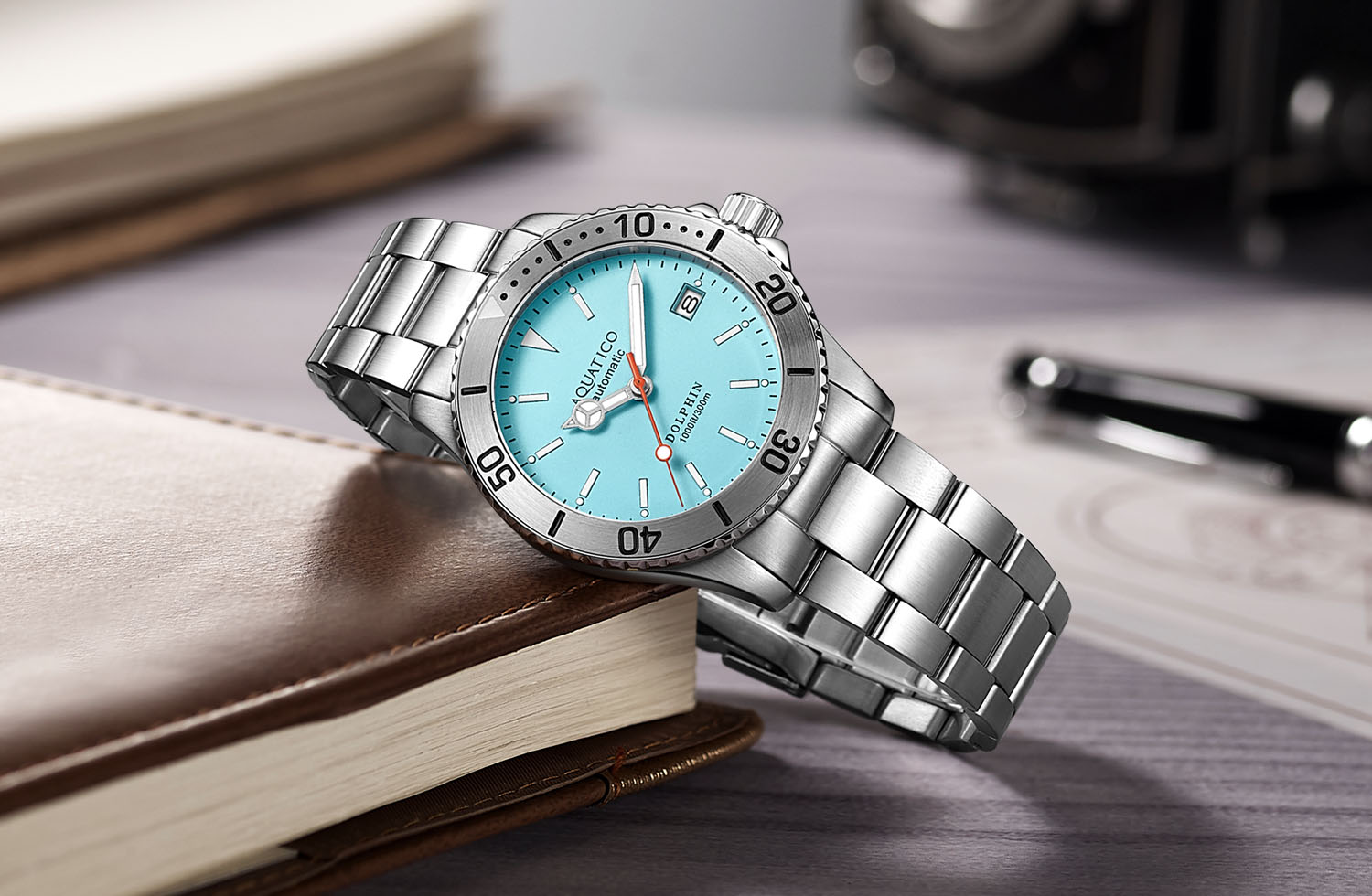 Leave a Reply
Your email address will not be published.Required fields are marked. *