Bronze watches are so popular. Why? Because they are beautiful and unique. And at Aquatico, you can get this kind of watch at an affordable price. With a lot of designs to choose from, you will find the perfect one for you. We believe that everyone deserves to wear such a great-looking watch!
The ultimate bronze watch buying guide
Bronze is a beautiful metal that has been used for thousands of years to make artwork and jewelry. Over the past few decades, bronze has made its way out of the world of art and into the fashion industry. Recently I have been looking at buying a bronze watch but was unsure where to start. Researching what makes a good bronze watch is essential before making such a purchase. There are many different features you need to consider when choosing any watch, but the choice between ceramic vs stainless steel leather bracelet vs bronze is especially important when buying a bronze watch.
What is the Bronze watch?
The first signs of bronze use are around 3500 BC.
Bronze is an alloy composed mainly of copper and tin, with a 12-12.5% mixture of tin. Other metals such as nickel, zinc, and manganese may also be added, depending on the characteristics sought by the brand.
Many bronze watches are made for diving. There is a reason why bronze watches are made as dive watches. Bronze as a material was used in boats and ships before stainless steel due to its toughness and saltwater corrosion. In addition, bronze was also used in diving helmets. All of this is due to the material's resistance in the field of marine use. This explains why most of the bronze watches released in recent years are only diving watches. It creates a connection with the past a strong link to the past and blends it with the future.
In the watch industry, more and more brands are introducing bronze watches into their collections. One of the reasons is that it is a unique material that stands out from the most commonly used stainless steel or gold.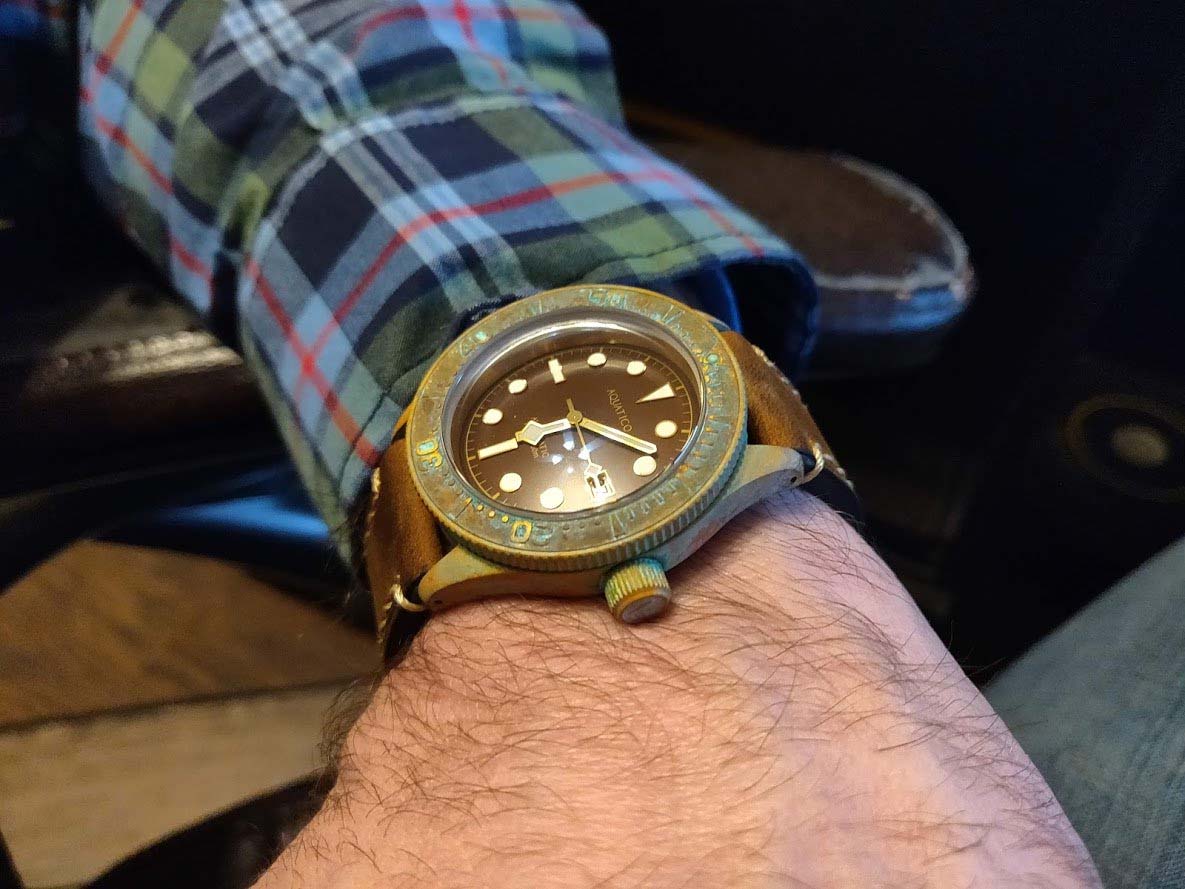 Are bronze watches any good?
It's natural to ask ourselves, "Is a bronze watch good?" When this material is compared to the most classic watch materials of today - stainless steel and gold.
As mentioned earlier, bronze does have corrosion-resistant properties when in contact with saltwater, which is a good thing for a dive watch. There are many examples of cases of vintage watches made from steel that have corroded, including Rolex watches.
Corrosion in the middle of the case is not uncommon. Obviously, the most important thing for a watch case is for the movement to be protected and have long-lasting durability. Over time, the bronze will have a stable oxide layer that protects the case. In other words, the oxide layer does not harm the case but protects it. When the oxide layer is thick enough, it no longer comes into contact with oxygen, thus ending the oxidation process.
Bronze watch natural patina
Bronze is the most common metal used in watchmaking. It has a warm, brown color and can be polished to a high shine or left unpolished to develop a bronze patina. Bronze is also used for other parts of a watch such as cases, crowns, and pushers.
A natural patina occurs when bronze or other metal is exposed to air or water over time. A natural patina will develop on both polished and unpolished bronze watches.
The natural patina can be accelerated by exposing the watch case to chemicals like bleach, vinegar, or lemon juice which will remove some of the original oxidation and leave you with more of an aged look than a polished finish might have given you.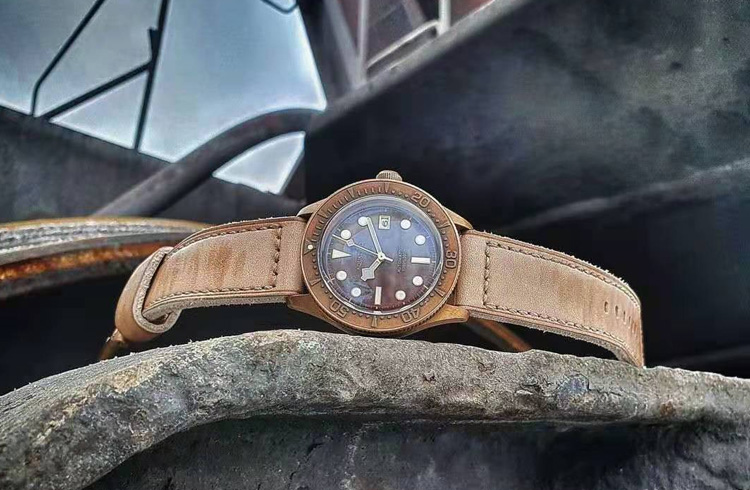 BRONZE WATCHES UNDER $300
The bronze big pilot is a great watch for men. The beautiful bronze case makes it the perfect choice for anyone who loves the ocean and things aquatic. It is equipped with an NH37 automatic movement, which is shock-resistant and anti-magnetic. Featuring a date display, luminous hands, and markers, complete with an exhibition window case back, with an affordable price of only $279.this watch is built to last!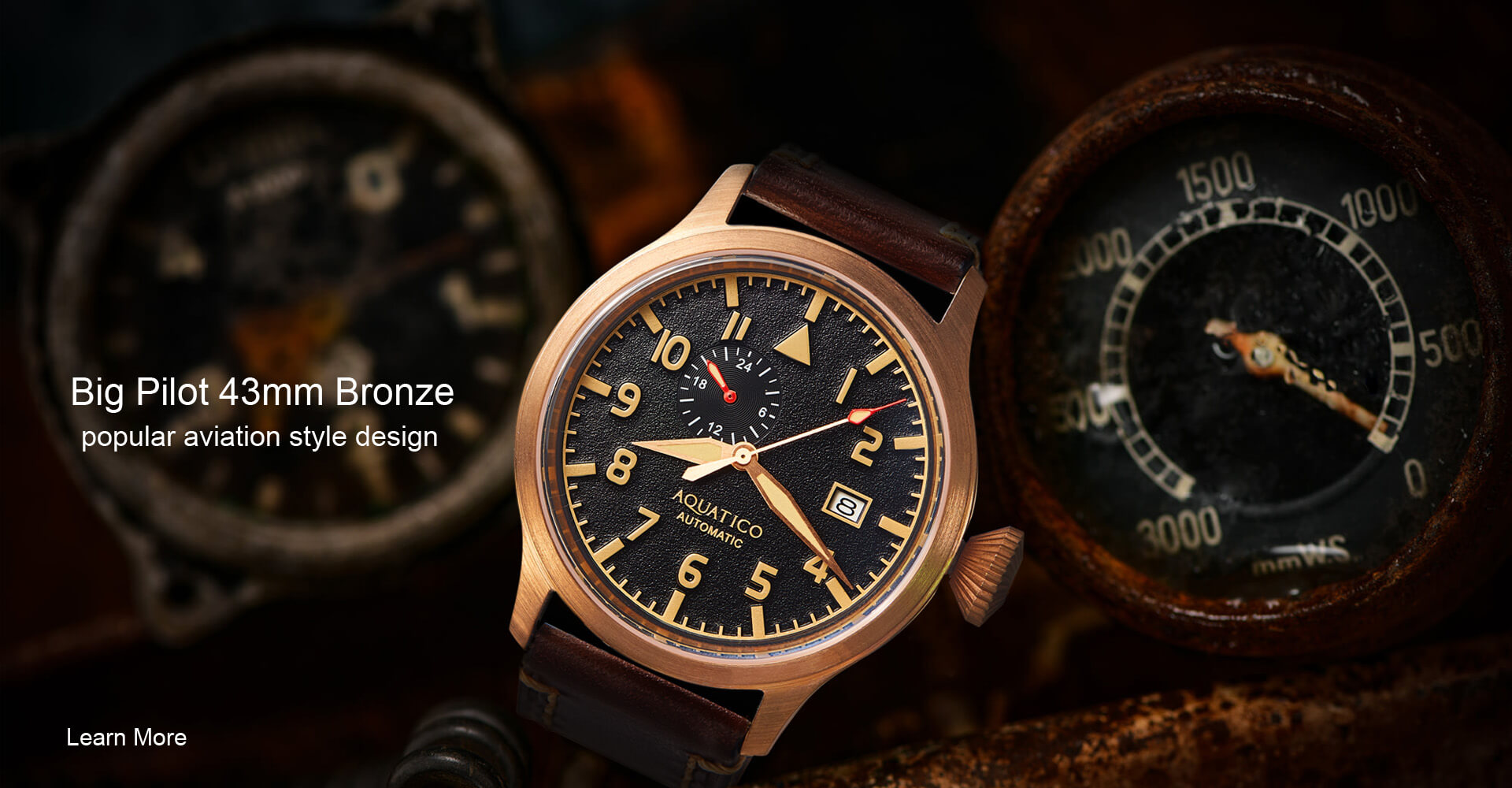 BRONZE DIVE WATCH UNDER $500
From the bronze sea star on its face to the bronze case, bezel, and bracelet, this dive watch is designed to make a statement. Hidden behind its unidirectional rotating bezel is a date window that shows your special day, while luminous hands ensure that you can read time in any light. A blue dial pairs with a brown leather strap that has a buckle closure for easy adjusting.
with an affordable price of only $359.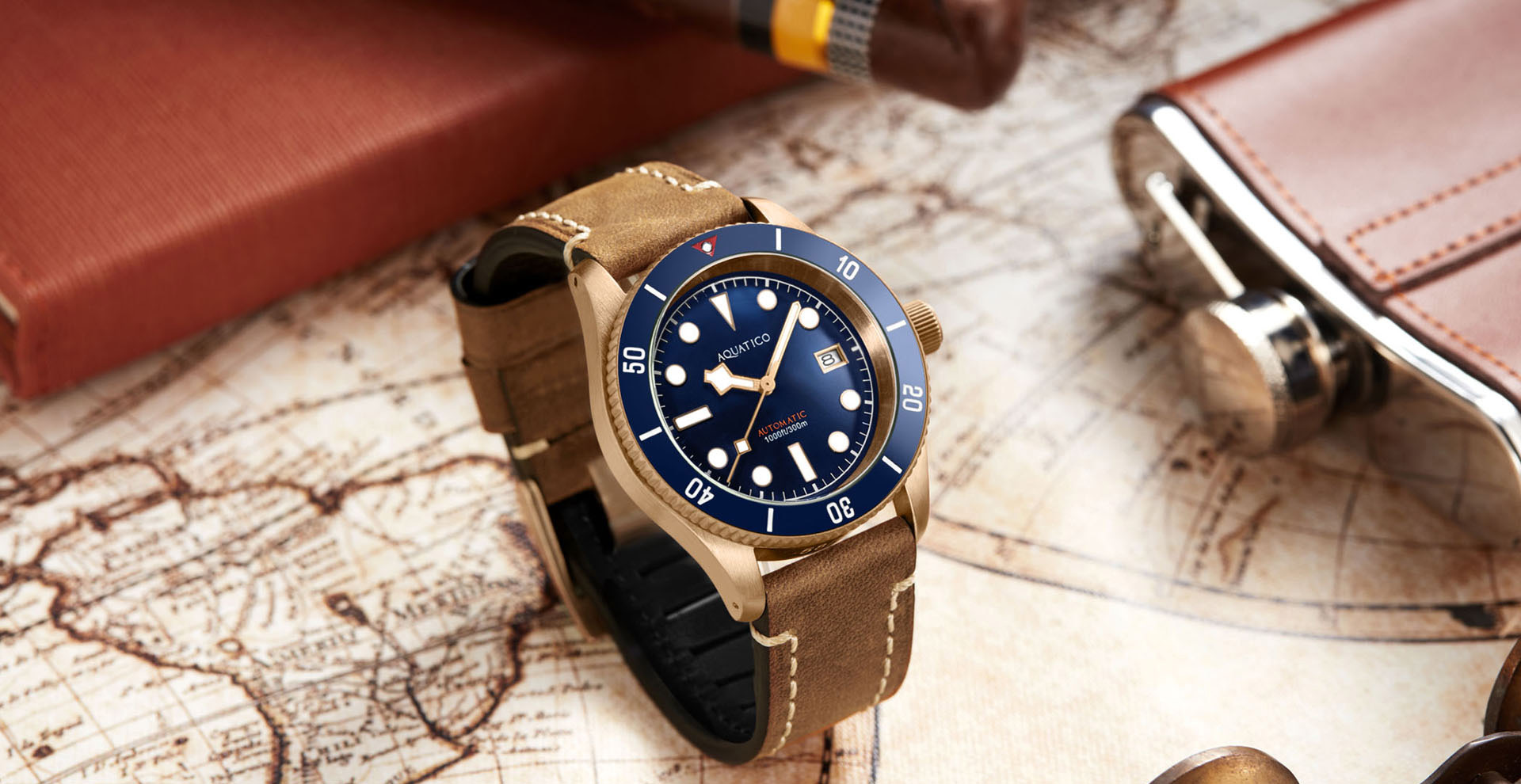 BRONZE

TRITIUM WATCH UNDER $1000
The Aquatico Super Charger Tritium Diver is a very stylish watch. It has a brushed bronze case, large date window, and bold numbers but it also has Tritium tubes that glow throughout the night. This allows night diving to be possible even when the light is out of sight of the diver. At $799 this watch is a great bargain because of its reliability factor, great looks, two-year warranty, and water resistance up to 1000 meters.
Power by swiss made Sellita SW-200 movement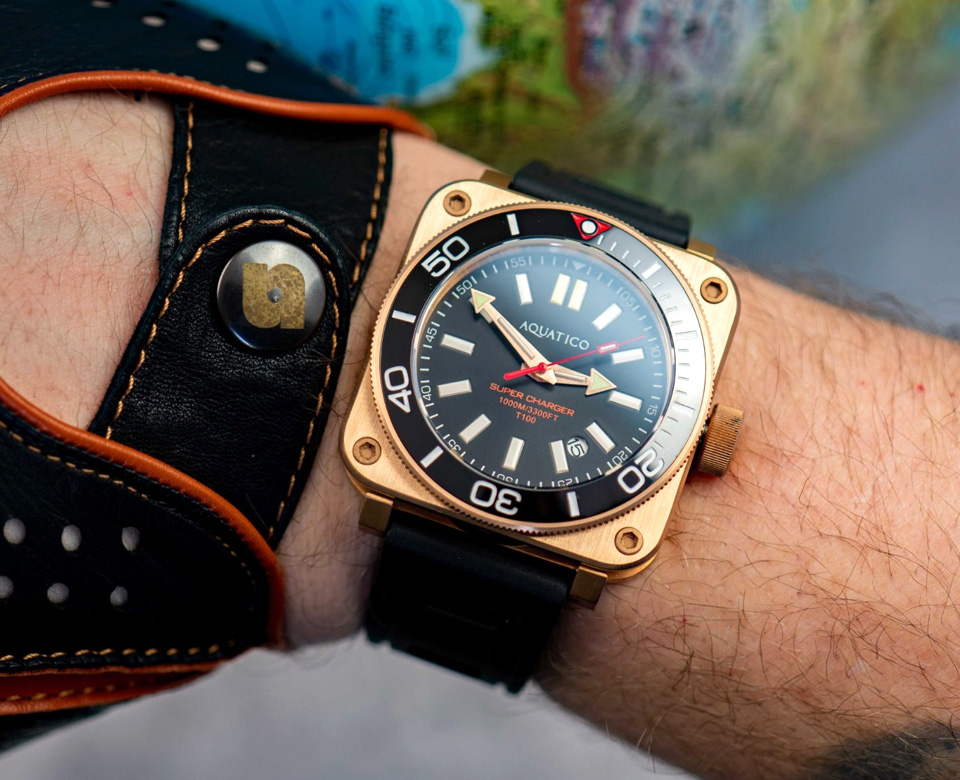 Common FAQ about Bronze Watch
Can you swim with a bronze watch?
The answer to this question is yes, you can swim with a bronze watch. However, you need to make sure that your watch is water-resistant and that it should be able to handle water pressure.
Does bronze turn green?
Bronze is an alloy that contains copper, which can oxidize when combined with moisture, creating patina. This reaction creates that green tint of copper carbonate on your skin after wearing a piece for a while. This discoloration happens most often with rings, due to the close proximity of skin to the bronze.
how to patina a bronze watch?
Here are the steps to bronze patina your watch.
1) Wear your watch for a few days to get a feel for it and make sure it fits properly. To minimize the risk of damaging the watch, avoid wearing any other jewelry with it as well.
2) Use a soft cloth to wipe down the entire watch with rubbing alcohol.
3) If you have access to hydrogen peroxide or lemon juice, apply a small amount of either on the desired areas so that they are covered evenly by only a thin layer--it dries in 10-20 minutes depending on temperature and humidity levels. Otherwise, you can simply use rubbing alcohol.
4) Wait until everything is dry before continuing if you used hydrogen peroxide or lemon juice; otherwise, continue immediately after wiping off any excess rubbing alcohol because it dries very quickly.